Due to both local and worldwide pandemic restrictions on shipped goods, I Want to Help Africa is not accepting donations of tangible items at this time; however, your volunteerism in helping to us to secure financial donations is still critical for helping those in need in Africa. If you know of someone who would like to make a one-time or recurring donation please direct them to our website where their financial donation will make a huge difference in the lives of Africans today!
VOLUNTEER
I Want To Help Africa has a strong volunteer corps and we are always eager to have more like-minded individuals like you join our ranks! There are many ways to volunteer.
1. Clothing/Household Goods
We are in need of volunteers to spearhead clothing and household goods drives when we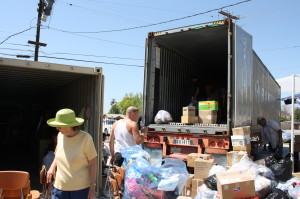 send a container to Africa. This is an ongoing project. Typically we have sent a 40-foot container to Zimbabwe, Africa every two years. Free or low-cost storage space is greatly needed.
In addition, we host container-loading parties, generally three months before a shipment takes place. Volunteers are needed to wash, fold, and pack clothing; organize household goods; and assist with the myriad of tasks involved with sending a 40-foot container overseas.
2. Host an Event
Do you have a talent you'd like to share with the community and donate proceeds to I Want To Help Africa? Volunteers are needed to host yard sales, car washes, benefit concerts, etc., with all tax-deductible donations going to support our projects in Africa. We'd love your help!
3. Other Ideas
What ideas do you have for assisting us? We'd love to hear about them! Please email info@iwanttohelpafrica.org and our Volunteer Coordinator will contact you shortly. Be sure to include your volunteer interests and your location!